Bread Pudding
Bread Pudding
 The Backstory: My neighbor Martha B. let me borrow her stash of recipes, some of which were given to her by a dear friend before he died. Oh, how I wish we knew how he came to possess them or the stories behind them. The first one in the stash is this delicious and easy-to-prepare bread pudding. Why don't we make this decadent dessert more often? It sounds so intimidating but this recipe makes it so easy, you'll turn to it again and again. Any kind of stale bread will do (challah works beautifully as well). Thank you, Martha's neighbor. These were a gift from the heart. More of the Backstory after the recipe…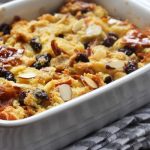 Print
Bread Pudding
Bread Pudding will satisfy the sweet tooth in all of us. Easy to make, and a real crowd-pleaser. Your family and friends will thank you for this delicious, decadent dessert!
Servings 6 servings
Ingredients
12 cups stale bread, diced
2 tbsp. cinnamon
3/4 cup brown sugar
2 cups water
5 apples, peeled and sliced into wedges or large chunks
6 eggs, beaten
1 tsp. nutmeg
1 tsp. allspice
2 tbsp. margarine
raisins optional
nuts, your choice optional
Instructions
Preheat oven to 350 degrees. Grease a large casserole dish. Set aside.   Put diced bread into a large bowl.  Add the water and combine with bread, then squeeze out excess water and discard it.

Add the sliced apples to the wet bread. Then add all the other ingredients and combine. This should be like a pastry consistency.

Bake for 1 hour.  Remove and let cool. Slice to serve
The post Bread Pudding appeared first on The Jewish Kitchen.