Bella's Perfect Coleslaw
Bella's Perfect Coleslaw
What's a barbeque without zesty, creamy coleslaw? Bella's perfect coleslaw hits the right balance of creamy and tangy and takes just minutes to make.
The Backstory: This recipe comes to me from my Canadian cousin, Rhonda.  She got it from her mom, Bella.  I know that there are scads of coleslaw recipe out there and it's worth noting that making coleslaw from scratch is really simple, and totally worth the effort. You can jazz it up any way you like and adjust the seasonings to a more peppery (or less), or more vinegary or mayo version. This is really like making a salad with your own personal stamp on it. More of the Backstory after the recipe…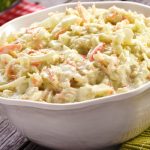 Print
Bella's Cole Slaw
The creamiest blend of mayo, white vinegar and simple seasonings make this a light and tasty side dish. It looks great with the colorful light shade of green cabbage and the color of the orange carrot mixture.
Servings 6 servings
Ingredients
6 cups shredded cabbage
1 carrot peeled and shredded
2/3 cup mayonnaise
2 tbsp. white vinegar
2 tbsp. canola or vegetable oil
2 1/2 tbsp. sugar (to taste)
1/2 tsp. celery salt
1/4 tsp. Kosher salt (to taste)
Instructions
In a large bowl, toss cabbage and carrot together. Set aside. In another bowl whisk together the remaining ingredients. Pour this mixture over the cabbage and carrot and toss to coat thoroughly. Refrigerate until ready to serve.
…The Backstory continues: In addition to serving this with hot dogs, hamburgers, or fried chicken, Bella liked to serve coleslaw with her famous Chicken Fricasee, which is an old recipe that my mom and my older European relatives made frequently.  I'm going to find out if this was brought over from the old country when they immigrated to the States or Canada.  I'll just add that to my to do list and work on getting that recipe to share with all of you.
In the meantime, enjoy the coleslaw!
The post Bella's Perfect Coleslaw appeared first on The Jewish Kitchen.